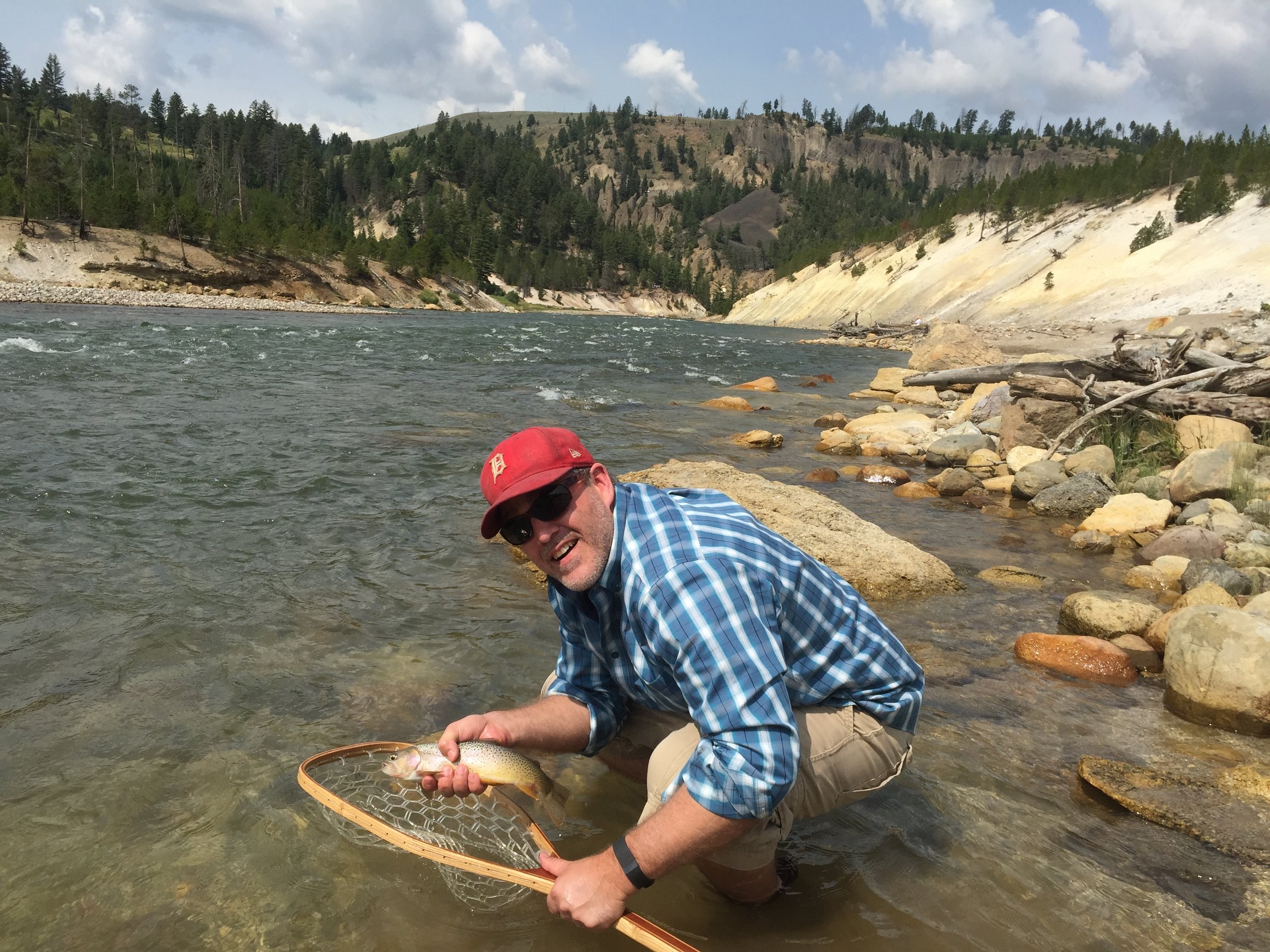 yellowstone national park
Yellowstone national park is 3.2 million acres of pristine trout and wildlife habitat. an angler could fish 100 days in a row in yellowstone and never cast over the same water twice. we fish the world famous rivers such as: the yellowstone, lamar, soda butte, slough creek, gibbon, and firehole. There are many other, less famous-but just as GORGEOUS, rivers and lakes we have tucked in our quiver, as well. All trips in yellowstone are walk-wade trips. there are many spots where you can access good fishing within a 1-mile walk from the road; however, clients wanting a real yellowstone adventure can hike 2 or three miles to fish on totally secluded waters. All of our guides have an intimate knowledge of Yellowstone as the fishing changes with the seasons. Anglers looking to fish in yellowstone should bring a small back-pack to carry water/rain gear and shoes/SANDALS for wading. often times, we are fishing smaller rivers and creeks, so "wet-wading" is the way to go. all of our yellowstone park trips meet in gardiner, mt or mammoth, wy. at times, alternate meet locations can be arranged (fees may apply).
-families of 5 must FOLLOW their guide in their own vehicle as guide trucks only have seating for 4 clients. Clients are welcome to follow the guide in THEIR own vehicle if that is more convenient.
yellowstone national park TRIPS INCLUDE:
RODS (IF NEEDED), ALL FLIES, TIPPET, TACKLE, bear spray. COLD DRINKS (NON-ALCOHOLIC) A DELICIOUS STREAM SIDE LUNCH (FULL DAYS), AND AN EXPERT GUIDE.
TRIPS DO NOT INCLUDE:
-PERSONAL CLOTHING ITEMS SUCH AS HATS, SUN GLASSES, WADING SHOES, WADERS (IF NEEDED CAN BE RENTED FOR $25), RAIN JACKET, SUN SCREEN, BUG SPRAY.
-ALCOHOLIC BEVERAGES- YOU ARE WELCOME TO BRING YOUR OWN BEER/WINE. ALL OF OUR GUIDES HAVE COOLERS FULL OF ICE.
-yellowstone national park ENTRANCE pass,
-yellowstone national park FISHING PERMITS CAN BE PURCHASED THE MORNING OF THE TRIP OR THE DAY PRIOR IN GARDINER, MT, LIVINGSTON, MT, OR EMIGRANT, MT.
-guide gratuities