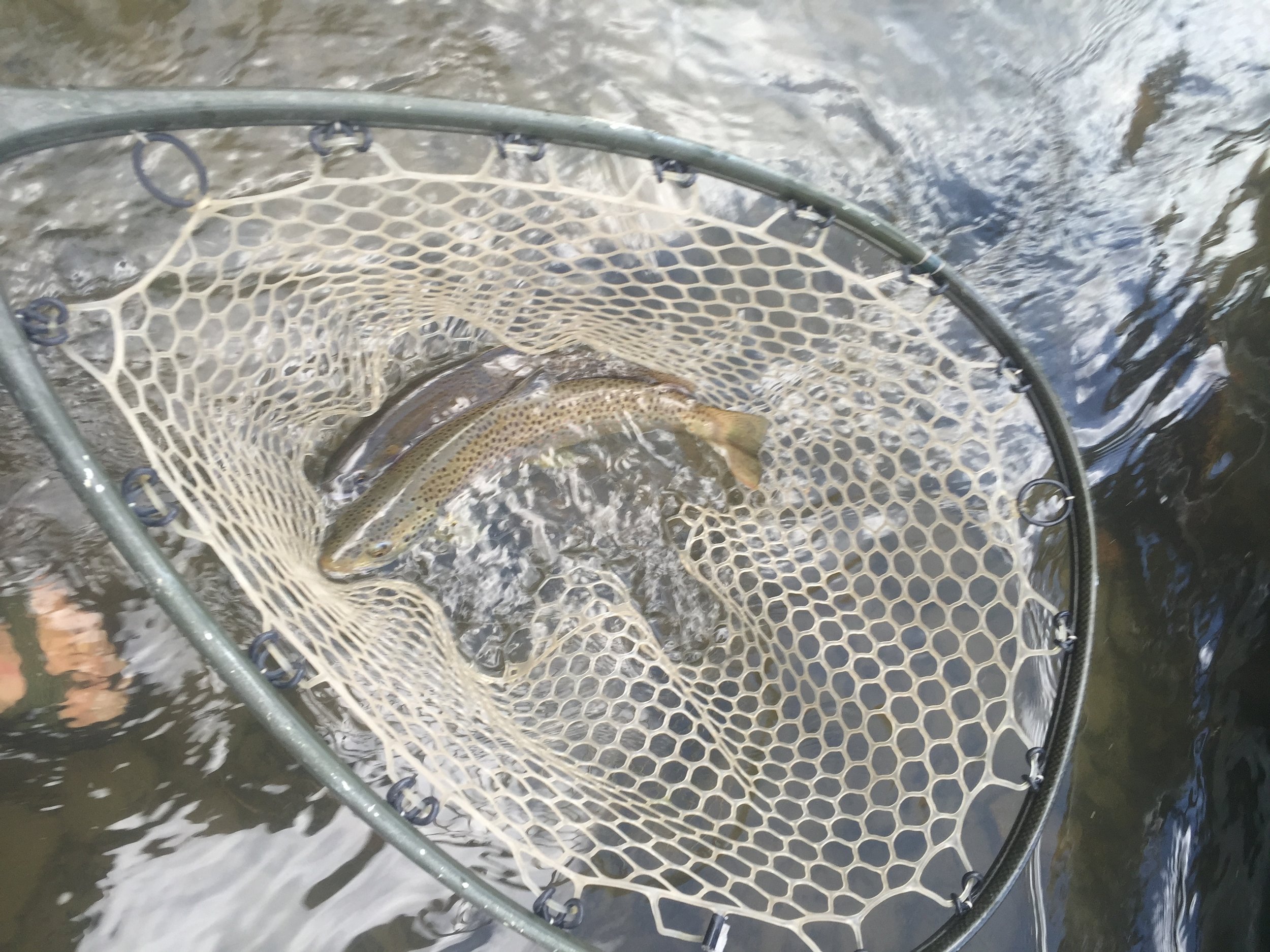 frequently asked questions
Where is yellowstone river outfitters located?
our main office is located in livingston, mt; however, most of our guides spend the summer season in the gardiner, mt area.
What if I have never fly-fished before?
not a problem. this is a great place to fly-fish for the first time. by the end of your trip, you will know how to string a rod, tie on flies, hook-set, and how to properly hold a fish. By the end of the trip, you will have all of the skills to go fishing on your own.
I have fished CONVENTIONALLY my entire life but never fly-fished... how is it different?
Fishing is fishing... having said that, fly fishing is a technique heavy activity that requires accuracy, PATIENCE, and builds on a progression of skills requiring focus and CONSISTENCY. some people say "conventional fishing is like hunting with a rifle, whereas fishing with a fly is more like hunting with a bow." of course, our goal is not to convert conventional fisherman to the fly, but we will teach you how to target these fish with a fly-rod... and it is pretty darn fun. you may want to take your newly ACQUIRED skills back home.
I am an intermediate to experienced angler, why should I book with yro?
all of our guides spend at least 150 days guiding or fishing ourselves here in yellowstone country. yes, that is an average of once every 3 days. we know this country and how to target these trout. we can take you on lesser-fished waters in rafts like the boulder, the yankee jim canyon, or the GARDNER section of the yellowstone. maybe you would like to get more practice fishing streamers? never been that effective swinging wet flies? ask your guide to train you up. wanna hike? we can take you back to some places where we like to fish on our days off.
When is the best time to fish yellowstone country?
Mid-june through mid october... or right now. there is always a place to target trout no matter the season, but the summer months do provide the warmer temps that create more options for fishing locations. Yellowstone national park is open from the end of may through the first weekend in NOVEMBER
how long is a guided trip?
full-day- about 8 hours
half-day- about 4 hours
how do I know where to meet my guide and get my fishing permit?
we do not have one designated meeting spot as we do trips all over western montana. the day before your trip, your guide will call you to decide a meeting location, talk about purchasing fishing permits, answer any last minute questions, and talk about any clothing you should bring.
clients should be prepared to meet their guide in the gardiner area. depending on where we fish, some times clients meet their guides at a specific boat ramp.
montana state fishing permits can be bought at the sinclair gas station in gardiner, mt; anglers west fly shop in emigrant, mt; or any number of fly shops or gas stations in livingston, mt.
yellowstone national park permits can be purchased in most places in yellowstone or fly shops outside the park. your guide will chat with you about this on the phone prior to your trip.
you say you need to use our park ENTRANCE pass to fish in yellowstone in the guide's vehicle... what if other people from my party want to go explore the park during the SAME day in our vehicle?
yes, for clients to enter yellowstone in the guide's vehicle, we need your park pass. to MITIGATE this, the guide can meet clients just in the park. some logistics may need to be DISCUSSED on the phone with your guide the night before. not a problem, no two trips are exactly the same... we do this everyday.
do you provide bear spray in yellowstone national park?
yes, every guide has at at least 3 cans of bear spray and educates the clients as to how and when to use it. bears and other wildlife are are part of what makes fishing in the park so amazing. PREVENTATIVE measures are key when exploring in bear country. bears are not a reason not to go fishing. your guide will educate you on proper wildlife PROTOCOL. how many times have you swam in the ocean near sharks? there are way fewer bears here. let's go fishing.
how do i book a trip?
feel free to contact us any time via email or phone. Advance notice is always appreciated and is sometimes necessary during the peak season (June 1 – October 1). Trips can be booked over the phone or via email. Advance notice is recommended and full payment to secure your reservation is required.
What do I need to bring on my fishing trip?
Float trips- hat, sunglasses, rain coat, montana fishing permit, ALCOHOLIC beverages (optional), sandals or shoes you don't mind getting a little wet (we do wade some of the better water we float through if clients are up for it), a light fleece, your gusto, and of course, a camera.
walk-wade trips- hat, sunglasses, rain coat, montana fishing permit/ yellowstone national park fishing permit, yellowstone national park enterance pass, ALCOHOLIC beverages (optional), sandals or shoes you don't mind getting a little wet (or waders), a small backpack to carry your lunch, waters, etc., a light fleece, your gusto, and of course, a camera. On most walk-wade trips, we do hike off of the road. If you do not want to hike please communicate that with your guide.
Do you practice catch and release?
yes, we fish with all barbless hooks and practice catch and release ethics. Of course, clients are welcome and encouraged to take pictures. We try to get those beautiful guys back in the water as soon as possible, though. Next year... she will be bigger!
Where can I buy my fishing License?
You can purchase your fishing license at any number of fly-shops and gas stations in livingston, bozeman, or gardiner. Also, you can buy and print your montana license on-line, click here
You can purchase a Yellowstone National PArk Fishing license at any visitor center within the park or fly shops in Gardiner or West Yellowstone. For more information on fishing licenses and regulations, click here
Is tipping my guide required?
tips are GREATLY APPRECIATED, BUT NOT REQUIRED. YOUR GUIDE WORKS HARD. PLEASE CONSIDER GRATUITIES IF YOU ENJOY YOUR EXPERIENCE, GAIN NEW KNOWLEDGE, AND THINK YOUR GUIDE HAS EARNED A TIP ( FULL-DAY AVERAGE $100-$120 PER GUIDE , HALF-DAY AVERAGE $50-$70 - WE RECOMMEND CASH)